Dr. Oz , Minneapolis Dentist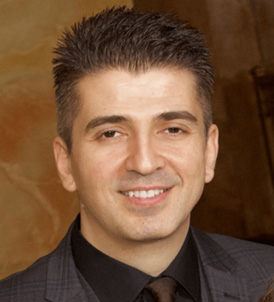 Background and Credentials
Dr. Oz has been practicing dentistry since 1998. He came to the United States in 2002 to pursue his goals. He completed a general dentist practice residency at St. Vincent Charity Hospital in Cleveland, Ohio, a post-graduate training program that is fully accredited by the American Dental Association's Council on Dental Accreditation. Upon completion of his residency, Dr. Oz joined a practice in Minnetonka, Minnesota and more recently, a practice in Sartell, Minnesota. He loves being a dentist and is skilled in many procedures, including endodontic therapy, implants, and extractions.
Soccer is a passion for Dr. Oz. He enjoys watching and playing soccer. He plays a variety of positions, but does not care to be the goalie. Dr. Oz. plays soccer one to two nights a week at the Plymouth Creek Center Dome, the Twin Cities Futsal or outdoors when the weather permits. His favorite teams are Real Madrid of Spain and Arsenal of England. His favorite player is Cristiano Ronaldo of Real Madrid.
August finds Dr. Oz back home in Istanbul for harvest time on his family's hazelnut farm, where he hosts immediate and extended family for an annual reunion – with plenty of food and fun. Dr. Oz believes family comes first. He has one daughter, Melike. She is almost 13 and likes to draw. Dr. Oz has lived in downtown Minneapolis for over three years.