Meet Our Staff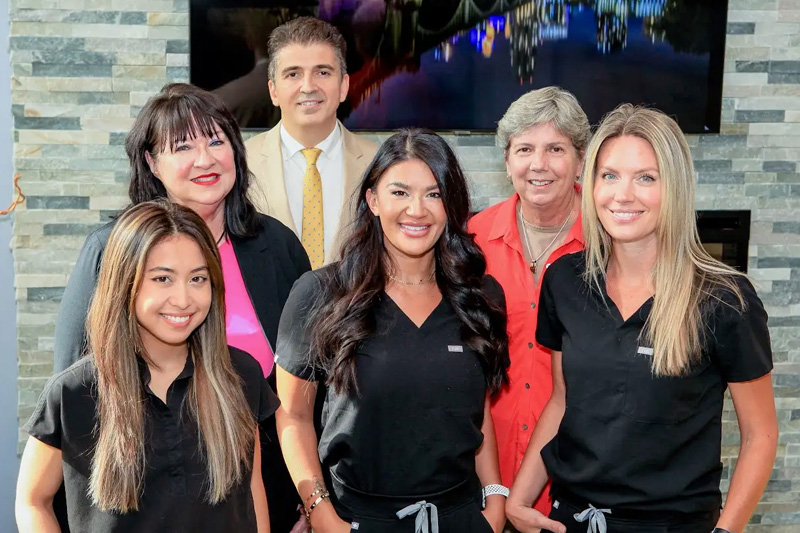 Our staff is uniquely trained and highly skilled, and we strive to provide energetic and fun-loving service to each patient. Our staff consists of team members with specialized training and multiple certifications, and each one of our team members has years of experience in treating patients with the highest level of care. We strive to stay abreast of the very latest in technology and advances by regularly attending continuing education courses and seminars.
To experience the difference that only a well-trained, professional and courteous team can deliver, schedule your appointment with our office today!
Book Appointment
Sue – Office Manager

Whether on the phone or at the front desk, Sue is the welcoming presence of CityScape Dental. She has been the Office Manager since 1996. If you have questions or concerns about finances or insurance coverage, she will provide expert guidance. Sue will always strive to make your visit with us an informative and comfortable experience.

Sue has been in office management for over 30 years. She has honed her skills in continuing education programs offered through the University of Minnesota and the Minnesota Dental Association, consistently earning recognition for excellence. She has been a member of the "Upfront Study Club" for dental office managers for many years.

Sue lives with her husband, Greg. Her interests include astronomy, photography, and writing and singing her own music. Ask if she is performing at a musical event near you.

Lisa - Office Administrator

Lisa came to work at CityScape Dental in 2012 when her father, Dr. Jim Arndt, retired and Dr. Dave acquired his dental practice. Her responsibilities are varied and flexible to meet the needs of the office team. Her goal is to make each patient's dental visit a welcoming and caring experience.

Lisa has a biology degree from the University of Minnesota. She has worked in the dental field since 1998.

She and her husband, Bruce, enjoy fishing, pickleball, and golf. Ask how she did in her most recent pickleball competition!

Terra Warren

Terra has been with CityScape Dental since September 2018. She graduated from Century College in 2001 with Dental Hygiene Degree. She was also a dental assistant prior to completing her college. Terra volunteered for various organizations such as Mission of Mercy and Give Kids a Smile providing Dental Hygiene Services.

Terra is dedicated providing the best care to her patients with most up to date technology. She and her husband Jon have four children, Travis, Bryce, Saydee, Tavien and two grandchildren, Liam and Lincoln.

Terra likes playing roller derby and enjoys cooking, gardening, golf and the great outdoors!

Kelly Brunner

Kelly has been part of our team since January 2018. She has been a licensed Dental Assistant since 2011. She holds a Dental Assisting Certificate from Herzing University. She is currently enrolled at St. Catherine University to finish her bachelor's degree in healthcare management. She will be graduating this coming May 2019.

Kelly has three children, a boy and girl twins that are 6 years old, and another little girl who is 2 ½ years old. She loves working with patients

Nancy McDonnell

Nancy prides herself in providing excellent dental hygiene-related services. I strive to ensure that my patients understand their dental health condition, and explain ways to improve their oral health through the services I provide and what they need to do at home. I take pleasure in helping them complete their work in an enjoyable and satisfying manner. State-required continuing dental education courses and seminars enable me to stay current in patient treatment, techniques and technological enhancements.

Nancy has donated dental hygiene services for the ADA's annual Give Kids a Smile program and at the 2018 Minnesota Dental Association Mission of Mercy.

Jamie Tombaga-Hafoka

Jamie has been part of our team since March 2019. She has been a licensed & Certified Dental Assistant since 2014. Jamie holds a Dental Assisting Diploma from Dakota County Technical College. She has extensive experience working with children and enjoys volunteering with Give Kids a Smile. When she is not working, she loves spending time with her three children, lifting weights, travelling and being outdoors.